Ferrous Systems GmbH was fully incorporated in Berlin, on October 1st, 2018; which makes today Ferrous' first birthday!
It's been a busy year (or really more than a year) for us, full of ups, downs, growth, challenges, stress, and opportunities, and it finally feels like the right time to write a bit more about it from a personal perspective.
Looking Back for a bit
In the early parts of summer 2018, it seemed likely (to us at least) that Rust was already reaching new heights and being used more widely in wildly new places. From our point of view, Rust had hit an inflection point: It was no longer "would Rust survive and be used?", it was "just how far is this going to go?". We saw a number of opportunities: people at companies adopting or expanding their use of Rust would need commercial support in the form of development, advice, and training; open source projects with huge potential for the Rust Ecosystem could use support and funding for sustainability; and whole new arenas and use cases for Rust would need assistance to make adoption possible and easy to achieve.
It seemed that the best way to tackle these challenges, and to push the ecosystem further, would be to form a company that could support and contain these efforts. After more than a couple coffees, beers, walks, late night discussions, and more chats and markdown documents than I can remember, we had started the ball rolling for establishing Ferrous.
In August, we announced Ferrous Systems on Twitter and later on stage at RustConf 2018. We spent the rest of August and September dealing with all of the paperwork and logistics of setting the business up, and excitedly, talking to the first potential clients for consulting and training. Finally, on the first of October, we got the official confirmation that we were fully incorporated!

Since then, I'm incredibly proud of the things we've achieved as a (progressively growing) team. Here's a couple roughly chronological highlights:
This list doesn't even account for the numerous corporate, conference, and a la carte trainings we've given, the consulting and development work we've done, or the conference and meetup talks we've traveled across Europe and the Americas for!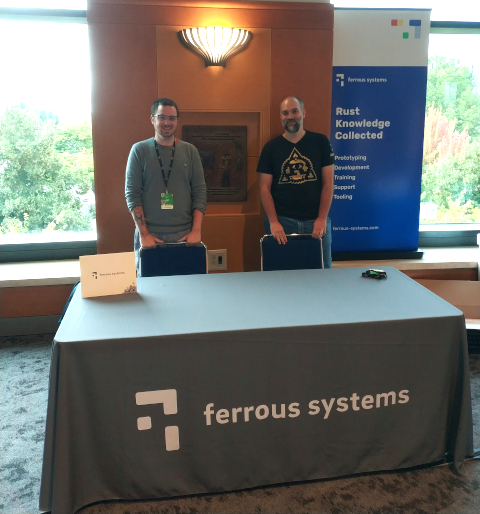 We've also done our best to give back to the Rust community whenever we could, whether it was through our open source libraries and tools, participation in the Rust organization, sharing our teaching materials as CC-BY-SA resources for all to use, sponsorship of wonderful conferences, or sponsorship of open source developers and projects!
Looking Forward
To put it simply, I believe that this community and the opportunities for Rust will continue to grow over the next years. This offers a wonderful environment for Ferrous and our team to thrive in as well.
We're hard at work cementing the foundations of the company to make sure that we can continue to succeed over the next years, including polishing and (someday soon) publishing our core values, refining the structures we need to support and grow our team, make continuous improvements to Ferrous as an organization, and to pursue innovative new ways to support the open source communities we are members of.
Thank you to everyone who has supported us through this first year, from our customers, to the folks who have recommended us to friends and colleagues, the people who have attended our trainings, the people who come to say "Hello" at conferences, and all the folks who have shared wisdom or kind words with us over the last year. Above all, thank you to the rest of the Ferrous Team, without them, none of this could have ever been possible.
I'm excited to be a part of Ferrous, I'm incredibly proud of the team and their achievements, and I can't wait to share with you what we do over the next year.
- James