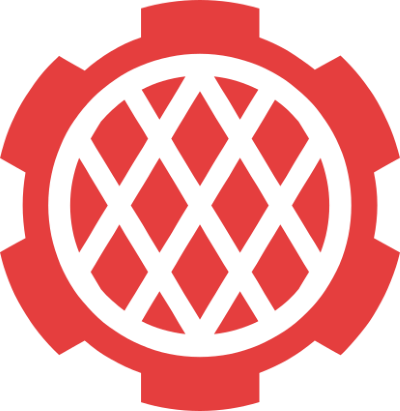 Knurling
A tool set to develop embedded applications faster.
❤️ Sponsor
This is the 33rd changelog for Knurling-rs, our push to sustainably build better tooling for developing and debugging Rust software for embedded systems. Knurling-rs includes a suite of tools that make it easier to develop, log, debug, and test your embedded Rust libraries and applications!
Knurling-rs is supported by our sponsors on GitHub. If you're interested in seeing more projects like this, consider becoming a sponsor today!
Highlights 🎉
Hello everyone! The knurling-rs team is back with our first update of 2022. Next to highlighting recent changes, we want to take the opportunity to look back at 2021 and reflect what we achieved. Let's get started with that!
Looking back at 2021
During the course of 2021, 35 individuals contributed to the various knurling projects. Let's see what they've built!
defmt
In 2021 defmt, our efficient, deferred formatting library for logging on embedded systems, saw two big releases v0.2.0 and v0.3.0, from five in total.
On February 19, we released v0.2.0. Next to many internal improvements, we added defmt::Format implementations for many primitive and std-library types (e.g. i128, u128, f64, char, std::marker::PhantomData<T>, std::convert::Infallible, core::time::Duration and many more) and introduced display hints for formatting data as binary, hexadecimal or ascii.
Counting all patch versions, defmt v0.2 got more than 95000 downloads! Honestly, even we are pretty impressed with this.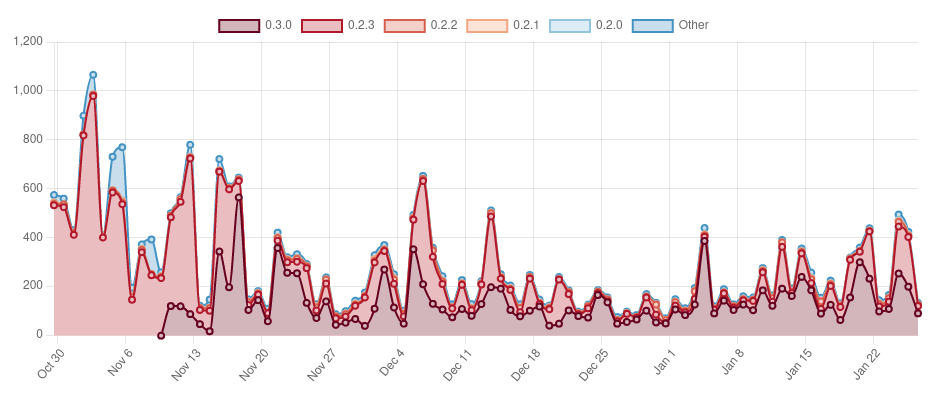 Nine months later, on November 10, we released v0.3.0. This was the result of many hours of work from the knurling-rs team, but the biggest "Thank you" goes to our community member Dirbaio who worked tirelessly to drastically shrink the binary-size impact of defmt. Next to this, the highlights of this release include the new compile-time log filter system DEFMT_LOG, two new logging-macros println! and dbg!, more flexibility when implementing defmt::Format and many more.
0.3.0 already got more than 10000 downloads and there are many more to come!
probe-run
probe-run's year 2021 was even more turbulent than defmt's. It featured ten releases, including the major v0.2.0 and v0.3.0 ones.
The output of probe-run got prettier and more easy to understand. For example probe-run highlights log-frames that point to your local code and it also shortens paths to your dependencies. Additionally, using the new --backtrace and --backtrace-limit options you can configure probe-runs output more fine grained and intuitively.
Together the seven v0.2.x releases of probe-run got more than 2600 downloads, and the two v0.3.x releases already got more than 1250!
What is next?
After the defmt 0.3 release, we sat down and gathered ideas, including the ones from our issue trackers and the knurling community survey 2021. Currently we are evaluating which of them to pursue in order cater our mission to improve the embedded Rust experience.
For two of these ideas we've written an RFC and would like your feedback on them!
Please comment if you like them, if you don't like them and also if something is unclear. All of this can be valuable input!
Knurling-sessions
On the knurling-session side of things there is also some exciting content coming up.
In August, our Summer Student and now employee Aïssata Maiga wrote a new knurling Session for building a distance sensor for bikes. The sensor measures the distance of approaching objects and sends the data to a companion app on a mobile phone using Bluetooth Low Energy.
The firmware is written with RTIC and serves as an excellent intro to the framework. We plan to start the session for sponsors in Spring 2022.
---
And now we are already at the end of our review of 2021. We are looking forward what 2022 will bring and happy hacking!
probe-run support for Raspberry Pi silicon
Another exciting change, which landed end of December, is support for the Raspberry Pi chip RP2040. From now on, nothing stands in your way of using defmt and probe-run together with your raspberry-flavoured microcontroller.
$

 probe-run 

--chip

 RP2040 

--shorten-paths

 target/thumbv6m-none-eabi/debug/hello_pico



(HOST) INFO  flashing program (2 pages / 8.00 KiB)
(HOST) INFO  success!
────────────────────────────────────────────────────────────────────────────────
0 INFO  Hello, world!
└─ hello_pico::__cortex_m_rt_main @ src/bin/hello_pico.rs:8
test
1 ERROR panicked at 'the disco', src/bin/hello_pico.rs:10:5
└─ panic_probe::print_defmt::print @ [panic-probe-0.3.0]/src/lib.rs:91
────────────────────────────────────────────────────────────────────────────────
stack backtrace:
   0: HardFaultTrampoline


      <exception entry>




   1: lib::inline::__udf
        at ./asm/inline.rs:172:5
   2: __udf
        at ./asm/lib.rs:49:17
   3: cortex_m::asm::udf
        at [cortex-m-0.7.3]/src/asm.rs:43:5
   4: rust_begin_unwind
        at [panic-probe-0.3.0]/src/lib.rs:72:9
   5: core::panicking::panic_fmt
        at [rust]/library/core/src/panicking.rs:107:14
   6: core::panicking::panic
        at [rust]/library/core/src/panicking.rs:48:5
   7: hello_pico::__cortex_m_rt_main
        at src/bin/hello_pico.rs:10:5
   8: main
        at src/bin/hello_pico.rs:6:1
   9: Reset
(HOST) ERROR the program panicked

But the congratulations for this shouldn't be directed to us, but to the folks at probe-rs. On our side we just needed to upgrade to probe-rs v0.12 and be happy to stand on the shoulders of giants.
Improvements 🦀
defmt
probe-run
flip-link
app-template
Sponsor this work
Knurling-rs is mainly funded through GitHub sponsors. Sponsors get early access to the tools we are building and help us to support and grow the knurling tools and courses. Thank you to all of the people already sponsoring our work through the Knurling project!